The parade sails during the Tall Ships Duluth Festival was a little different from previous festivals.  Included in this year's event, the world's largest rubber duck.  Can you spot him in the photo below?
Peek-a-Boo
While editing the photo below, I noticed the Coast Guard cutter offering a drink of water to the rubber duck on this hot summer day.  Or at least the photo makes it look that way.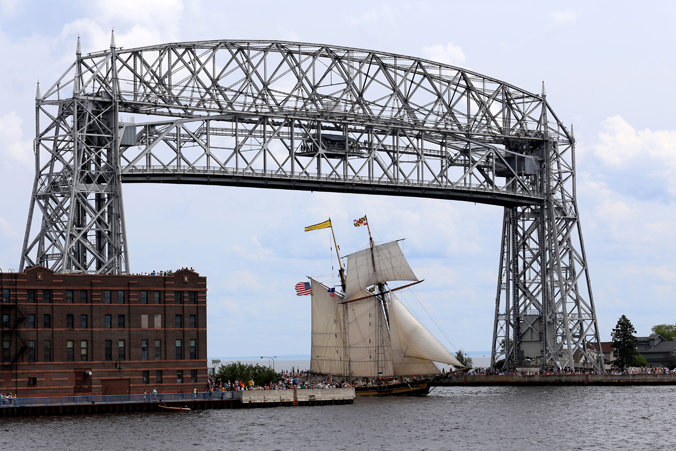 The hot, humid day changed to breezy and dark with rain drops towards the end of the parade of sails.
It was a nice afternoon break during a long work day.
We've had an interesting week with two unique events going on in the area.  In between baseball and soccer practices and games, we've seen Tall Ships and Dinosaurs.  
Last weekend the Tall Ships were in town.  Since they were docked outside my back door at work, I couldn't help but snap a few pictures.  There was light fog in the morning before the first day of tours began.  People were lined up early for their chance to view and board the ships.  
The Tall Ships departed earlier this week only to be replaced by the Dinosaurs.  The four of us went to see the show last night.  We were not disappointed.  Instead of lugging my big camera with, I brought the old Panasonic camera with to capture a few pictures.  It did surprisingly well.  These are our favorites from the evening. 
We probably won't have anything quite as interesting to post about next week, although Sean's 40th birthday party is only 7 days away. 🙂